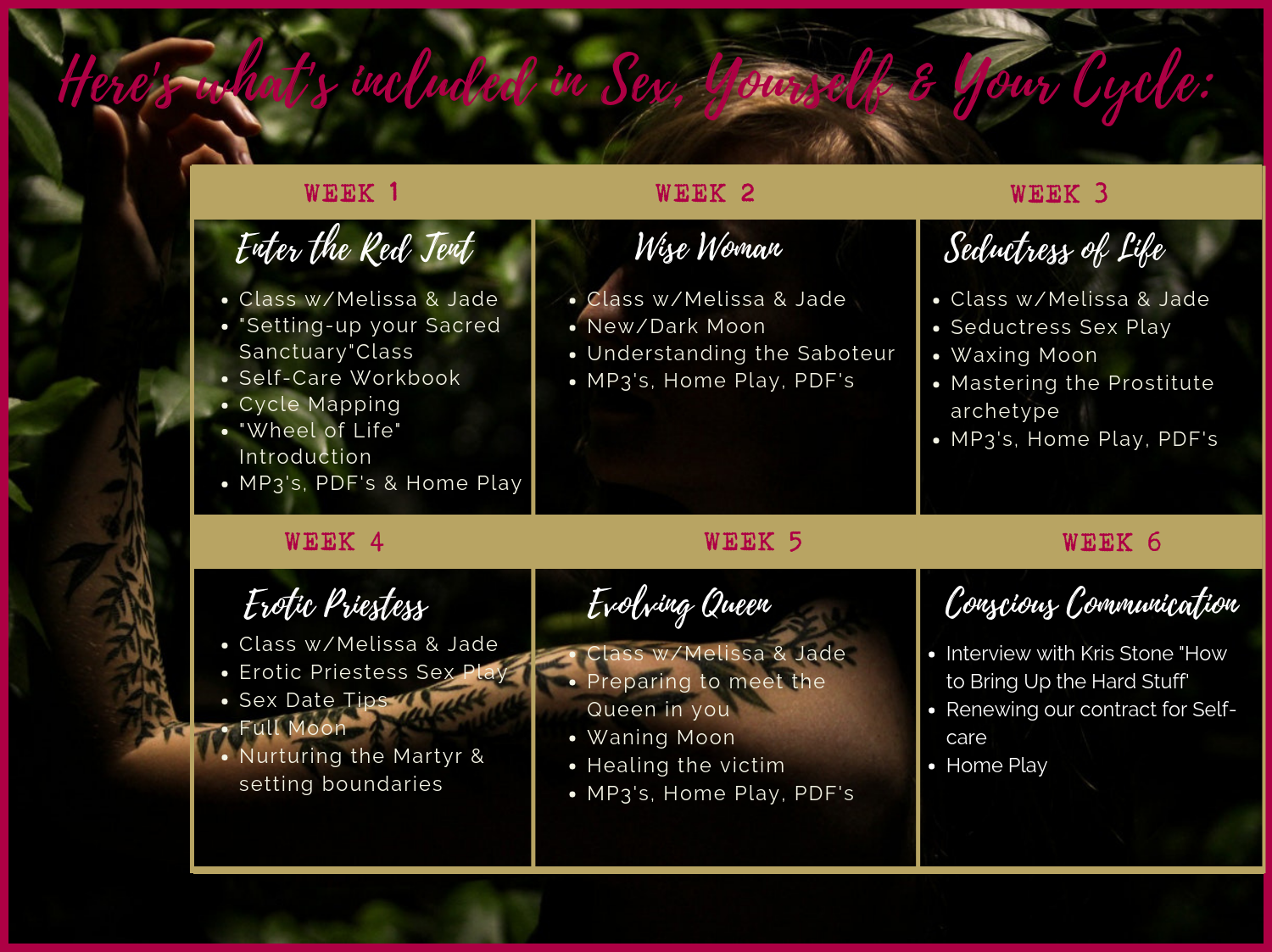 Week 1: Preparation Phase with the Waning Gibbous Moon & Opening Ceremony Circle Call
Self-care rituals
Setting up sacred Space
Releasing shame and core beliefs around menstruation and sexuality.
Heart-to-yoni meditation
Yoni Steaming
Catching the Goddess Train
Week 2: The Wise Woman Archetype, Dark Moon, Menstruation Phase & New Moon
Sex and aging
Breast Massage
The magic of our bleed: Menstruation Rituals
Going into retreat: Receiving messages from the Divine
Work book: Getting to know the wise woman archetype
MP3: Meeting the wise woman within
Shadow Work: The Saboteur, Your Gateway to healthy habits
Earth Rituals: Working with the element of earth & blood in sacred ceremony
(Rituals are optional)
Week 3: The Seductress of Life, Waxing Moon & The Maiden
Re-introduction to your inner maiden
Here we re-introduce you to sex, your bleed and the archetype of the Seductress of life
Yoni mirror work
Body Love
Pussy Patting
Yoni mandala
You are the nectar of life
Fountain of Bliss
Amrita
Air Ceremonies
MP3: Menarche Inititation Ceremony
Preparing to enter the red tent
Workbook: Meeting the needs of our inner Maiden
Shadow Work: The Prostitute; Healing the Sacred Woman
Air Rituals: Working with the element of air in sacred ceremony
(Rituals are optional)
Week 4: The Erotic Queen, Full Moon, Ovulation.
Taking control of your own pleasure
Sexual reflexology
Yoni massage
Sacred Spot Massage
Sex Magic
Erotic Edges
Fire Ceremonies
MP3: Enter the temple of the priestess
Workbook: The Mother Archetype
Shadow Work: The Martyr; Service not Sacrifice; Self Care Commitment
Fire Rituals: Working with the element of fire in sacred ceremony
(Rituals are optional)
Week 5: The Evolving Queen, Waning Moon, The Path of Conscious Evolution
Conscious dissemination
Surrender: The path to deep vaginal orgasms
Taking control of your Pap Smears
Foods that make you taste good
De-Armouring
Cervical Orgasms
MP3: Meeting the Medicine Woman
Workbook: Menstruation Preperation
Workbook: Queen of her Kingdom
Shadow Work: Healing the Victim Archetype
Water Rituals: Working with the element of water in sacred ceremony
(Rituals are optional)
Week 6: Conscious Communication, Closing Ceremony & Renewed Self Care Commitment
Interview with Kris Stone from "Conscious Cock": How to bring up the hard stuff
Setting boundaries
Solo sex dates
Empathy and Forgiveness
What IS conscious communication
The art of truly listening
Self Love Commitment
BONUSES!
Sacred cock massage mp4
Yoni Steam Workshop with Sabrina from Sacred Lotus Yoni Steam
Discover Your Magic Course with Jade
What Others Are Saying About Us:
The biggest thing that has come out of this program with Jade, was reconnecting with myself in every sense of the word. To realize how vital that is, to be able to live authentically and completely. To be happy and then to be able to share that with others. And then to share my true self and to be loved for who I really am instead of going through life being the person that makes everyone feel comfortable.
Now people are appreciating me for who I really am... I have so many tools, its overwhelming! This has come at the most pivotal time in my world and triggered a huge spiritual awakening that has taken me on the biggest ride of my life and I am so ready for it!
Every part of my self is shedding and shedding and shedding and as I let go and trust I know that everything that comes from this is going to make my life so much more meaningful. I will look back when I am an old crone lady and laugh!!! Learning about all of these different aspects of myself has triggered me to go on a deep search in so many areas of my life & to really reconnect with nature, letting her take my tears, my shedding, reconnecting with that part of myself that wants to be connected to the natural world, to revel in it and learn from it... I'm hesitant to let go of this circle because its been such a light in my life...
Thank you for all of the support and space holding... Sharing with you all has been so amazing...
Arielle Simons
If I were to enrol on a journey to reconnect with my deepest levels of self with anyone it would be with Melissa. She lead a sacred open space for connection soo beautifully- truly a gift, and one of the greatest ones I've given myself in a while. What I also loved about her pleasure journey was being able to fit it into my crazy schedule-highly recommended!
Anna Johnson
Coming into this course with Jade, I had no idea about the feminine, I thought being feminine was wearing high heals and parading around pretending to act sexy...Moon cycles & that stuff always intrigued me but I didn't know anything about it...I feel like I'm shedding and shedding and shedding, to the point where I say things and I can't even believe that came out of my mouth... I look behind myself wondering where it came from!!!! Life is just so different now for me.
When I feel fear of people seeing me as myself I feel more at peace because I know myself on a whole new level. I always felt like an outsider, never a part of a crew, this space has been so healing , in the authentic rawness of the feminine and I can be wholeheartedly me
My life changed when i started doing that, instead of swimming upstream ... I am so grateful for the whole sisterhood, when each woman shares I get so many aaahaaaa moments and realise I'm not a weirdo. . .
Simone Travers
Melissa is bold, honest, passionate, and full of wisdom. She taps into the wild truth of humans without any hesitation - what a fresh breeze and courage! I believe her workshops should be taken by all the women AND men on this planet!
Junko-Koko Niwa
Melissa is a powerful woman with a powerful message! I'm deeply grateful for her wisdom, authenticity and passion to share. Helping me to connect and ground more to my body, heart and my womb space.
Her practices are extremely helpful and informational. Everything she knows I believe everyone should know. There is so much more to sex than most of us have been taught.
She helps break that down and recreates to empower everyone!! She truly has a gift! So much love for this woman.
Amanda Thomas
I really feel like its been gentle waves of the ocean, sitting on the shore of a very familiar beach of gentle lapping waves on the shore...The content of the course has felt like home to me.. I was trying to identify if it's because I was aware of these different archetypes in the past, but I think what it is, is an intrinsic knowledge that each time a wave has come towards me and touched my feelings, it is like being home.
This course with Jade has been like coming home, its like this wisdom is our wisdom and remembering this, with all of the tools, and living in that space of deep wisdom of the feminine in all of her faces, her wildness, her medicine woman, her empress, her creatress & empowering all of the aspects of the feminine... I can never be reminded enough to keep coming home, because it seems to be a passageway of life to go from forgetfulness to remembrance....
It has been powerful to explore this space together as a weekly pilgrimage. To come back to remembering and back to home within tribe and within self. . .
Zoe Dodds
Melissa is a wealth of information. She is very instrumental in creating space which invites us to open up and honestly talk about the things that need to be spoken about with regards to our current model of sex education. I came into this workshop very curious and excited to learn and I certainly left with new information and insights. I feel anyone from any demographic or background can benefit from her workshops.
I left the workshop feeling very inspired about how I approach the topic of sex with my young children. Thank you Melissa. You are doing a great service to society and young men and women by talking about the things that we were all told are too taboo to be said out loud.
Annalisa Raghunandan
Are you ready to enter your red tent home @ home?